Masters in
Emotional Intelligence & Life Coaching
Transform & Grow with most premium life coaching credentials
This program is crafted to provide all the coaching tools and techniques and a curriculum that adapts to emerging research and trends in the industry
It is founded with the vision of meeting all coaching needs in one platform.
To specifically focus on strategic thinking, cross-functional knowledge & innovation.
This program helps students to become Emotionally Intelligent Human Beings enabled to manage & respond to self & others' emotions & develop skills of Self Awareness, Self-Management, Self-Motivation, Empathy & Social Relations.
Understand Human Psychology influencing Human Behavior & to develop valuable relations with other people, by understanding underlying principles of Life Coaching
Understand fundamentals of Life & get exposed to current worldwide Coaching practices in different specialisations & learn to apply those in professional life.
Develop different skills such as entrepreneurship, decision making, business communication, teamwork, consultancy skills & People Skills which would help students develop their Coaching Business and practice.
Develop Coaching Competencies as per International Coach federation guidelines and equip the candidates with a detailed understanding of Coaching Credentials Process
Enable the candidate to initiate their own Life Coaching ventures with the Business Plan and Social Media support
Students who opt for this program will have the advantage of receiving a well-rounded education in the field of coaching which will include at least 12 certification programs, saving both time and money spent on myriad training programs.
Average work experience (years)
in world to offer Masters in Life Coaching
Start your Coaching Business/Practice Parallel to the course commencement
Attain Social recognition & personal growth
24*7 access to Learning 4.0 ecosystem to learn anytime from anywhere including expert-curated notes (Coach Study Guide) & learning Videos
Support from 'YML Coaching Hub' for coaching business launch & business
Free membership to the global coaching circle
Dual Certificates by Mumbai University & ICF - USA
Start your Coaching Business/Practice Parallel to the course commencement
MML "all-round" Career Support Ecosystem
Health & Wellness Coaching
Anyone seeking self growth
Anyone wants to contribute to Society
Anyone wanting to make Social impact
Life Skills Education Imagined for a New Reality
This programme blends the best of the premium online learning experience with advanced coaching practice sessions, taught by the best minds in emotional intelligence & coaching space. You will gain skills to advance your leadership, training & coaching goals and map your career for future success.
Coaching Practice Sessions
Designed to focus on strategic thinking, cross - functional knowledge, innovation, and developing personal relationships, the degree is carefully structured with integrated modules that will be delivered in a blended format – online, self-paced sessions, LIVE Virtual sessions and campus immersions. The program spans 12 months of blended learning + 10 months of coaching practice sessions. It will provide you the flexibility to adopt an agile approach to apply your new learnings at your workplace.
Dual Mumbai University Master's x ICF USA Certification Advantage
MMLs Dual Master's x world's premium certification is crafted to accelerate your career in the Emotional Intelligence & Life Coaching Space. In collaboration with Mumbai University x ICF,, this program provides a comprehensive learning experience with an emphasis on hands-on learning.
Masters In Collaboration with Mumbai University
Learn from industry expert coaches & get to be their personal mentees
Reinforce learning by regular coaching practice by doing live sessions
Our constant quest to bring to you the latest in the global coaching industry leads us to collaborate with the best in their fields
Certificate by Mumbai University & achieve Mumbai University alumni status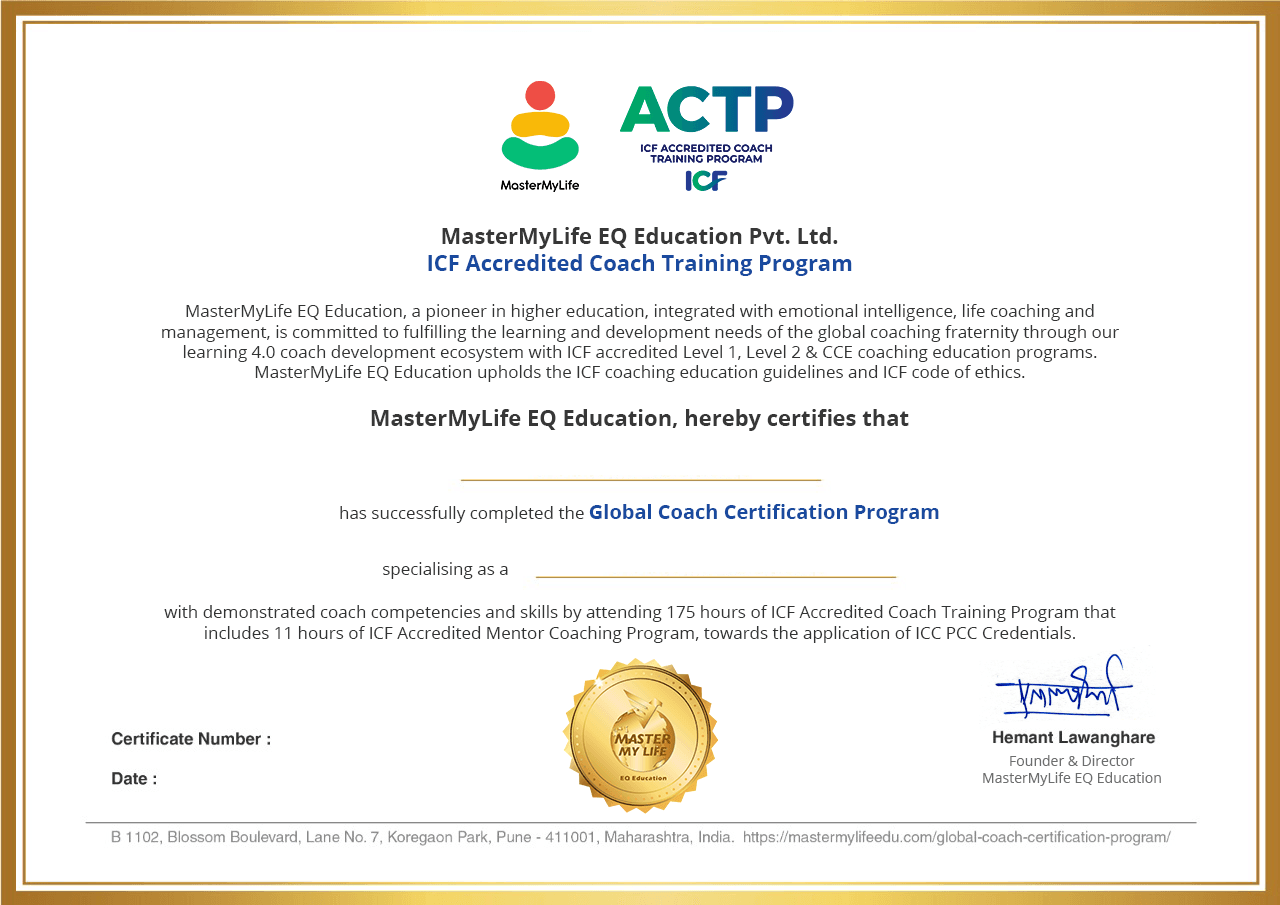 Globally recognised certificate in Masters degree in Emotional Intelligence and Life Coaching with 12 additional certificates highly valued by the industry
Get Ahead with MMLx ICF USA certification
Become a part of the ICF global community of Coaches & Leaders
ICF is dedicated to advancing the coaching profession and is the gold standard in coaching
MML has the resources to help entrepreneurs which enables them to fill the gaps and enable their ventures to take off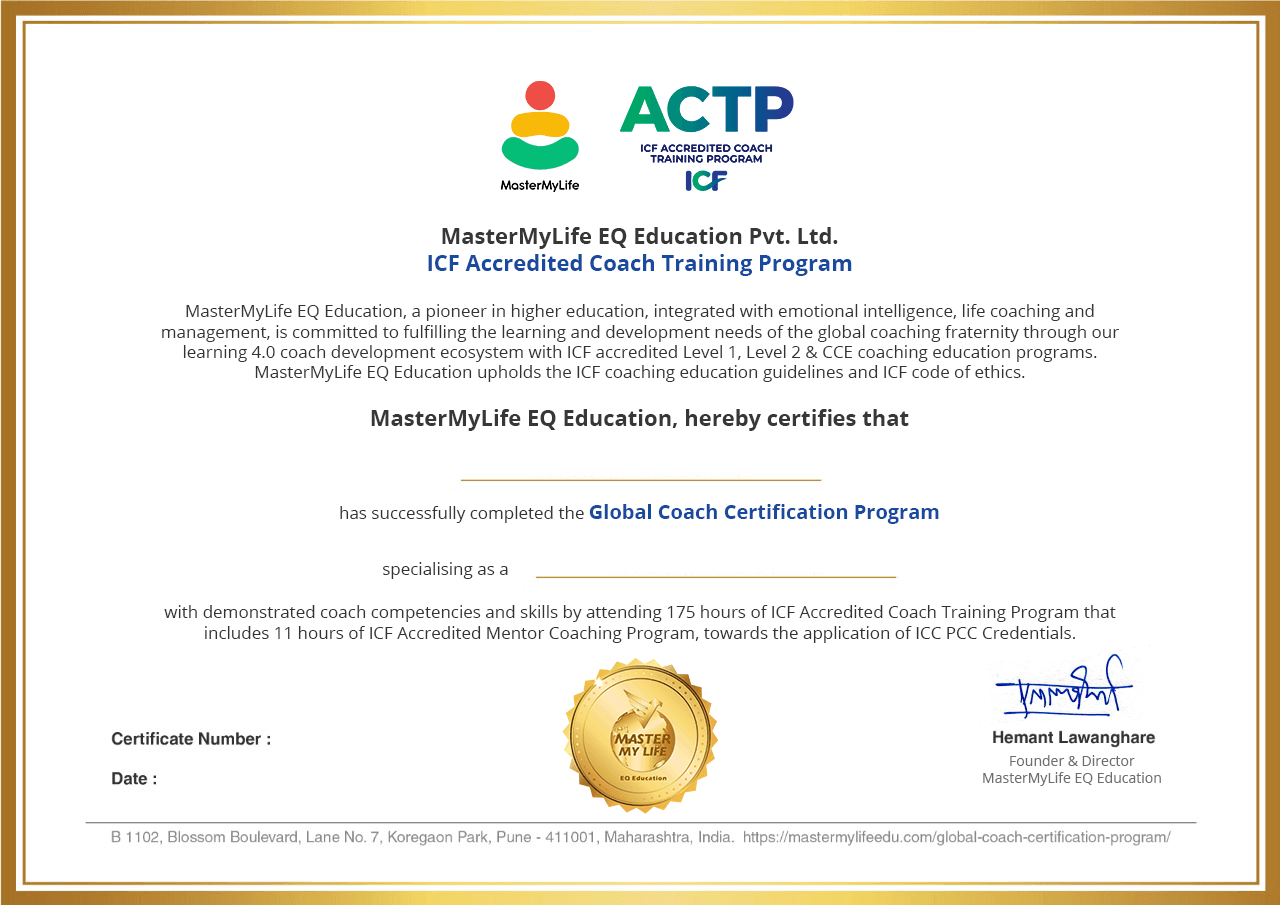 MML Business Support Program
The MML Professional Support System provides program participants with practical, and far-reaching career advancement and transformation options. MML is dedicated to assisting its students in connecting, exploring, and empowering their future & supporting learners looking for a new career. Coaches wanting to set out on their entrepreneurial journey are supported in the following ways:
Opportunity to become inhouse coach and get coaching assignments.
Access to the global coach circle to gain paid clients & projects
MML helps in brand building, business planning, business launch and growth through its brand boutique for coaches
This Premium Masters Degree blends extensive hands-on training with self-paced learning.
Brain child of MML and jointly developed by Mumbai University & ICF USA with national & international instructor-led classes designed to make the student industry & life ready.
Live projects and Coaching practice sessions culminate student's learning experience while reinforcing life skills with coaching and transforming people's lives.
Candidates who wish to apply for Masters in Emotional Intelligence & Life Coaching should have:
Any graduate degree from a recognised university. No age limit.
Anyone looking for self growth & self development in a structured & comprehensive manner.
Free Behavioural Intelligence Tool
Meet Your Faculty Coaches
Learn from the best talent, industry leaders and wonderful humans who will go above & beyond to help you become a successful entrepreneur, coach and a life skills professional.
Find out how MML's Master's Degree
transformed our student's lives
No cost EMI starts at Rs 20,000/month
Scholarships & Earn while learn Program Available
Scholarships & Earn while learn Program Available
Dual Degree & Certification Program
Gain cross domain Knowledge which help you gain better perspective on life and career
Any graduate degree. No age limit.
Any graduate degree from recognised university. No age limit.
Selection Process : Online Entrance Exam (50 Marks) + Online Personal Interview (50 Marks)
Online entrance exam
There are five sections in this Test:
• Verbal Comprehension
• Advanced Verbal Reasoning
• Decision Making
• Abstract Reasoning
• Situational Judgment
Online personal interview
To test the clarity of purpose and background of the candidate. This is the most crucial step of the selection process where 1 in every 50 candidates gets selected.
Mumbai University GICED admission process